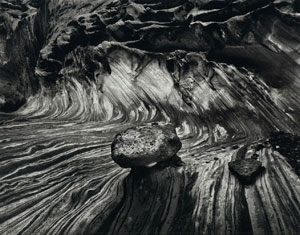 Bruce Barnbaum of Granite Falls, Washington entered photography as a hobbyist in the 1960s. After 35 years, it is still his hobby; it has also been his life?s work since 1970. He has taught workshops since 1972. His classic book in four movements, Visual Symphony, was published in 1986. The Art of Photography, An Approach to Personal Expression, first published in 1994 (with a revised, expanded edition published in 1999), is a complete illustrated textbook on photography, delving into its technical, aesthetic, philosophical, and creative aspects.

and increasingly through his color imagery. His work is represented by more than ten galleries throughout the United States and Canada, and is in the collections of museums and private collectors worldwide.
His photography expands upon the dynamics he finds in both nature and the works of man, relating forces to the sweeping forms that dominate his vivid imagery. Visually he emphasizes the best of humanity and nature, sometimes with bold realism, often with degrees of abstraction to heighten the mystery. He understands light to an extent rarely found, and combines this understanding with a mastery of composition, applying them to an extraordinarily wide range of subject matter. His photographs often contain ambiguities concerning either the size of the scene photographed and/or its orientation, forcing the viewer to pause and think, and to become part of the creative process.