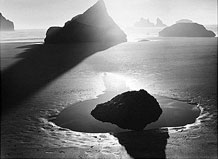 Stu Levy's photographs often involve vanishing wilderness areas. He gained an appreciation for the threatened landscape by studying Eliot Porter's photographs, and learned about the art of fine printing from Ansel Adams. But looking at the photographs of Minor White he learned about the emotions and mysteries a photograph was capable of expressing.
Known as one of the finest printers of black and white photographs in the region, he enthusiastically took on the challenging task of printing Minor White's negatives of the Dolph and Lindley houses, trying to capture the full mood of fleeting mystery shown in the soon-to be-demolished remnants of Portland's grand architectural heritage

Amongst the many exhibitions of his photographs, he has had shows at the Governor's Office in Salem, the Blue Sky Gallery in Portland, the Maryhill Museum, the University of Oregon Museum of Art and the Ansel Adams Gallery in Yosemite. His photographs are in many public and private collections including the Art Museums of Portland and Seatlle, the Portland Visual Chronical, the Center for Creative Photography in Tucson and the Museum of Photographic Arts in San Diego.
His photographic teaching includes workshops for the Ansel Adams Gallery, the Photographic Arts Workshops, the Oregon School of Arts and Crafts and the Coupeville Arts Center.

Recently I have started making "grid-portraits" of artists and craftsmen. Using several images contact printed together, a space and time scan is made of the subjects in their environments.
In addition, references are made to the making of the photograph and to my own interaction with the subjects as I explore the processof perception and visual synthesis.
In 1995 I printed 82 vintage Minor White negatives of two victorian houses for the permanent collection of the Portland Art Museum and for publication in the book "Heritage Lost", published by the Oregon Historical Society and the Portland Art Museum."~ Stu Levy