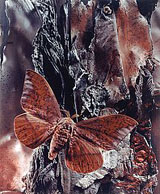 Education

1975 University of California, Berkeley, BA Art
1980 University of California, Berkeley, MA Visual Design/Photography
1979 University of California, Berkeley, MFA in Art

Chronology

1975 Studied Painting and Art History at UC Berkeley, which has given me a painterly approach to photography.

1980 From 1980 to 1983 I was a Scenic Artist painting sets and backdrops. I was head scenic artist for Zellerbach Playhouse and on staff at the San Francisco Opera and Ballet Companies. This greatly influenced my photography, which has a theatrical stlye.

1989 I received the first of five Polaroid Grants to work on the 20x24 camera. This encouraged me to continue to work in color and on a large scale.


Awards

1994 NEA, National Artist Fellowship, Washington DC

1991 Polaroid Corporation Studio Grant, New York, NY

1990 Phelan Award in Photography, San Francisco

1989 Polaroid Corporation Studio Grant, New York, NY

1988 Gyorgy Kepes Grant in Photogrpahy, Creators Equity Foundation, Berkeley, CA

1981 California Ars Council Grant, California


Solo Exhibitions

2003 Joseph Bellows Gallery, La Jolla, CA

2003 Center for Photographic Art, Carmel, CA

2003 Houston Center for Photography, Houston, Texas

2002 Lisa Sette Gallery, Scottsdale, AZ

2002 Nevada Museum of Art, Reno, NV

2001 San Jose Museum of Art, San Jose, CA

2001 Robert Koch Gallery, San Francisco, CA

2001 Lisa Sette Gallery, Scottsdale, AZ

1996 Robert Koch Gallery, San Francisco, CA

1994 University Art Museum, Albequerque, Albuquerque, NM

1993 Bank of America World Headquarters, San Francisco, CA

1992 Robert Koch Gallery, San Francisco

1991 Etherton Gallery, Tucson, AZ

1983 De Saisset Museum, Santa Clara, CA


Group Exhibitions

2003 Capturing Light, Museo de Arte Contemporano, Caracas, Venezuela

2002 Invented Realities, Photo-Eye Gallery, Santa Fe, NM

2002 Idea Photographic, Museum of Fine Arts,, Santa Fe, NM

2001 American Perspecives, Museum{EKI}KYOTO, Kyoto, Japan

2001 Capturing Light, The Oakland Museum, Oakland, CA

1999 Into the 21st Century, San Jose Museum of Art, San Jose, CA

1999 50 years of Polaroid Photography, Friends of Photography, San Francisco, CA

1998 Telling Stories, George Eastman House, Rochester, NY

1998 California Current, Armand Hammer Museum of Art, Los Angeles,CA

1997 The Painted Photograph, The Boise Art Museum, Boise, Idaho

1996 Feast for the Eyes, Austin Museum of Art, Austin, TX

1995 Return to the Pleasure Principle, CEPA Gallery, Buffalo

1994 4x4, Museum of Fine Arts, Santa Fe, NM

1993 Summer Selections, Julie Saul Gallery, New York, NY

1992 Photokina '92, Cologne, Germany

1991 The Garden Within, The Nevada Museum of Art, Reno, NV

1990 Phelan Award Exhibit, San Francisco Camerawork, San Francisco

1989 California Color, Torino Fotographia Biennale, Torino, Italy


Collections
George Eastman House, Rochester, NY
San Francisco Museum of Modern Art, San Francisco, CA
Museum of Fine Art, Houston, Houston, Texas
Los Angeles County Museum, Los Angeles, CA
High Museum of Art, Atlanta, Georgia
San Jose Museum of Art, San Jose, CA
Polaroid Corporation, Germany
The Oakland Museum, Oakland, CA
University Art Museum, Albuquerque, NM
Swatch International, Zurich, Switzerland
Honolulu Academy of Art, Hawaii
Dow Jones Collection, New York
Nevada Museum of Art, Reno, NV
BankAmerica Corp. Art Collection, San Francisco, CA

Bibliography

Article: Jo Whaley. Steve Anchell. PhotoVision Magazine, Crestone, CO, 2003

Language of Photography. Educational Television Program. KCSM, San Mateo, CA, 2002

Jo Whaley Portfolio. Susan Rosner. Camera Arts Magazine, Corrales, NM, 2001

Emerging Bodies. Barbara Hitchcock. Edition Stemmle, Zurich/New York, 2000

American Perspectives. Michiko Kasahara. Tokyo Metropolitan Museum of P, Tokyo, 2000 (photo-eye Cat# ID596S)

Innovation Imagination. Debra Klochko/Barbara Hitchcock. Harry Abrams, 1999 (photo-eye Cat# AB188H)

Exploring Color Photography. Robert Hirsch. Brown & Benchmark, 1997 (photo-eye Cat# ZB103S)

Jo Whaley: Natura Morta. View Camera Magazine March/April, Corrales, NM, 1994

Jo Whaley, Paradise Revisited. Photo Asia Magazine Vol 3 39, Singapore, 1993