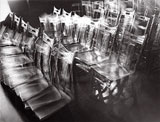 BACKGROUND
B.A. 1976, M.A. 1979, The University of New Mexico
Instructor: Darkroom Classes, Albuquerque Parks & Rec. Dept.; Color Slide Processing, UNM Continuing Education and Santa Clara (CA) Recreation Programs; Co-Instructed Photo Workshop in Ireland and currently instruct in the Don Kirby/Joan Gentry Anasazi Workshops.
EXHIBITS
The University of New Mexico Student Art Shows; New Mexico State Fair Photography Shows; Sunnyvale Recreation Dept. Art Shows; The Center for Creative Photography of San Juan Capistrano; Malaga Cove Library Art Gallery; Suherry Arno Gallery, Jakarta; Verve Fine Arts Gallery, Santa Fe.

WHAT?S LEFT
Hold Bronze Medal in Latin Dance, Ballroom Dance Competition, Brigham Young University.