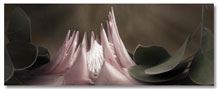 Huntington Witherill was born in Syracuse, New York, in 1949. He moved to California in 1953 and began training in classical music.
Upon entering college as a music major, Witherill became interested in the study of two-dimensional design. This shift in artistic medium eventually led to career in fine art photography beginning in 1970. He studied under such notables as Ansel Adams, Wynn Bullock, Steve Crouch, and Al Weber

Witherill's photographs have been exhibited in more than seventy-five individual and group exhibitions in museums and galleries throughout the world. His photographs represent a remarkably varied approach to the medium including landscapes, studies of pop-art, botanical studies, urban architecture and digital imaging.
In 2000, an internationally acclaimed hard bound monograph featuring Witherill's black and white landscape images entitled:

Orchestrating Icons, was published by Lenswork Publishing. Subsequently, a second award winning hard bound monograph featuring his black and white botanical photographs, entitled: Botanical Dances, was also published by Lenswork Publishing in 2001.
Since having been the recipient of the Artist of the Year award presented by The Center for Photographic Art, in 1999, Witherill continues to expand his photographic vision. Beginning in 2002, he produced a remarkable series of botanical images using color materials and the digital imaging realm. With these new tools, Witherill has produced a body of work representing a creative and new approach to the medium.
Since 1975, Witherill has continued to teach photography for a variety of institutions and workshop programs throughout the United States, including the University of California, The Friends of Photography, and The Ansel Adams Gallery. He and his wife make their home in Monterey, CA.